Overview
This course involves the in-depth study of media products in relation to the four areas of the theoretical framework: media language, representation, industries and audiences. Students will study a range of media forms: advertising and marketing, film, magazines, music video, newspapers, online media, radio, television and video games. The course will provide comprehensive and integrated coverage of media theory and practice. In creating their own media products, students will develop their technical skills and ability to work to a brief and meet deadlines.
Through studying Media Studies, students will view, evaluate and analyse a variety of media products. The course involves contemporary, diverse topics and varied and engaging content. A variety of study methods are used on this course, including debate, discussion, presentations and written analysis. It is worth noting that this is not a media production course; whilst there is an element of media production in the non-examination unit, there is a strong emphasis on media analysis and theory.
Qualification Details
Exam Board: EDUQAS
Qualification Title: Media Studies
Qualification Specification Code:
Qualification Webpage: Click here to visit the EDUQAS webpage for the specification.
Entry Requirements
Standard Sixth Form entry requirements
What will I study in this qualification?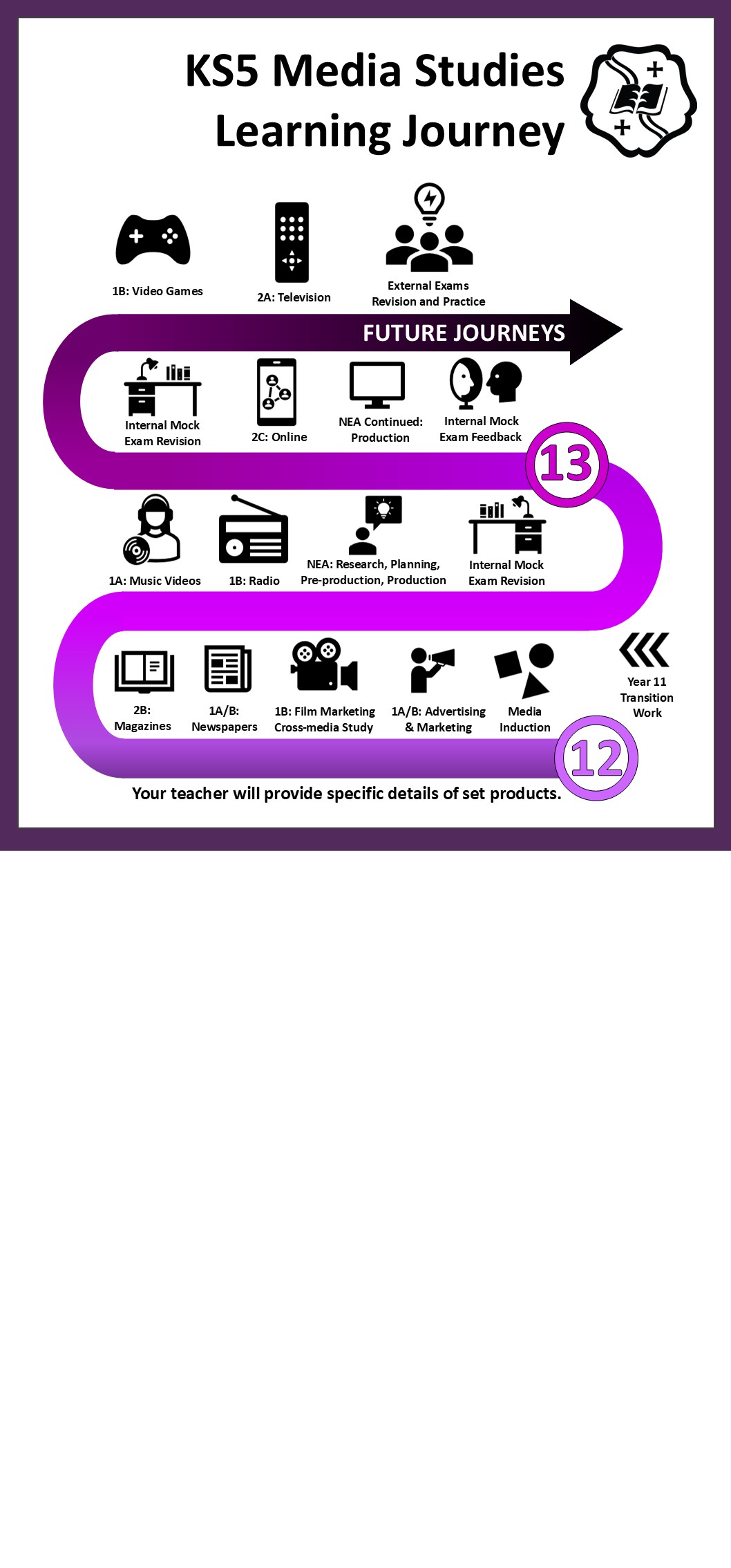 Possible Career Paths
Careers in Television, Film, Radio, Journalism, Digital Media, Advertising and Marketing, Public Relations, Teaching. This course equips students with excellent communication skills, skills of critical analysis and investigative skills that will be necessary for most careers. Students will develop their research and problem-solving skills, building their capacity for independent research and gaining a deeper appreciation and understanding of the role media plays in day to day life. Students will refine their debating skills through the discussion of contemporary issues from a range of perspectives. They will also extend their practical and creative skills through the non-examination unit.