Overview
Economics students will look at the fundamental forces, which affect our lives, such as employment, prices, international trade and poverty. Economists often engage in healthy debate over these issues. It is this controversy which makes Economics lively and interesting and which allows you the opportunity to make your own judgements and form your own opinions. In year one you will focus on both Microeconomics and Macroeconomics. Microeconomics address issues such as: "Why are house prices so far?" "Can pollution effectively be controlled?" and "Should government interfere with markets?" the Macroeconomics issues covered include: "Why does the government have an inflation rate target and how does it affect us?" "What happens to the economy if people decide to spend more?" and "How are we affected by the Chinese and Indian economies?" In year two you will build on your micro and macro knowledge and study another key topics, First, "The Global Context" includes the impact of globalisation on UK economincs performance. Second "The European Union Context" includes the effects of Brexit and economic policies of UK economy
KS5 Intent Statement
To provide a successful curriculum suited to our student intake profile, balancing core learning with guided, differentiated pathways for sub-groups or individuals which inspire and engage students whilst successfully preparing them for progression at age 18 and future life as learners, employers and citizens.
To give the students a real world understanding of the use of technology in the wider world and to provide a theoretical level of knowledge in the history and inner workings of key aspects of the computer. To cultivate creative and dynamic problem solvers, both when using technology and in general, by developing the key skills of computational thinking.
To give students a deep understanding and engage learners to enhance their awareness of current affairs and key Economic and Business topics to enrich and develop their cultural capital and prepare them for a rapidly changing external environment. To equip students with the analytical and evaluative skills required to form judgments and opinions about why key decisions are taken by the government and the impact on the world around us. We want learners to demonstrate that they can identify and use effectively, in an integrated way, an appropriate selection of skills, techniques, concepts, theories and knowledge to help them prepare for progression to employment, apprentices and further education.
Qualification Details
Exam Board: AQA
Qualification Title: Economics
Qualification Specification Code: 7136
Qualification Webpage: Click here to visit the AQA webpage for the specification.
Entry Requirements
Standard Sixth Form entry requirements
What will I study in this qualification?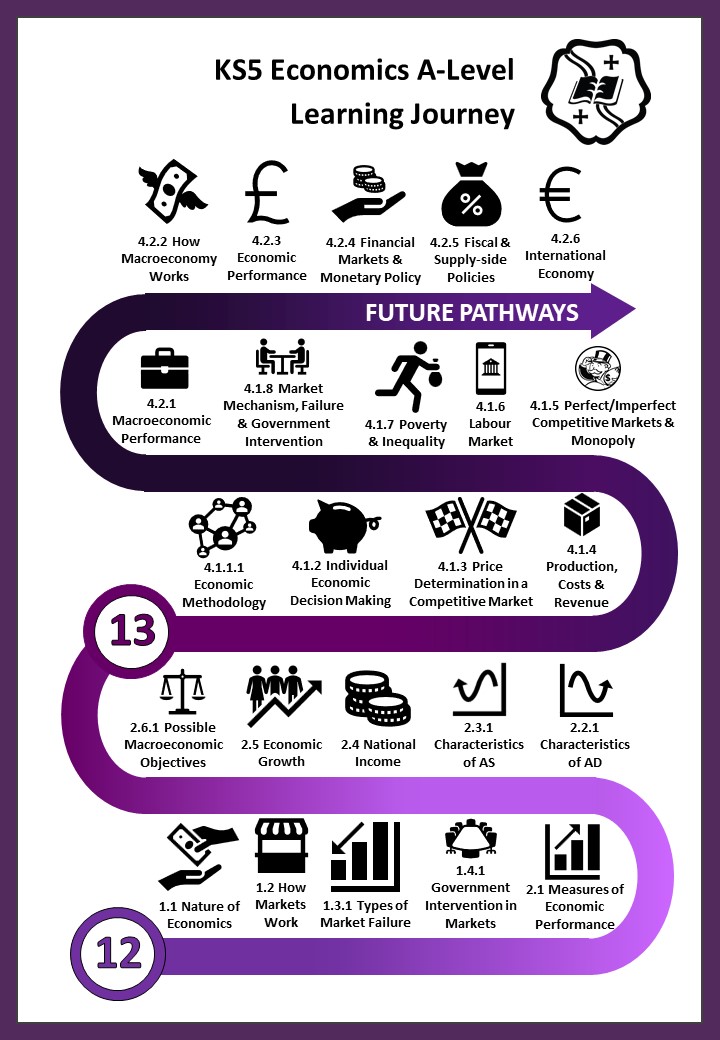 Possible Career Paths
Economics is a fascinating subject because it includes the study of how people behave and interact with each other. The dynamic between consumer, manufacturers and government makes Economics a vibrant subject. Economics helps develop a number of personal skills; research, analysis and evalutions, communication, working with others to discuss economic issues and solve economic problems. Economics is a versatile subject that can help you in a number of careers. Not only could you find yourself working for big corporations, bank or the governement but your qualification in Economics could also be a valuable support in a career like Marketing, Law, Journalism or Accountancy and Finance