Overview
A-level Business follows on from GCSE Business, although GCSE Business is not a requirement for this course. The course aims to develop an enthusiasm for studying Business and, through the themes studied, gives the students a holistic understanding of business in a range of contexts. Students will develop a critical understanding of organisations and their ability to meet society's needs and wants, and understand that business behaviour can be studied from a range of perspectives. Students will get the opportunity to generate enterprising and creative approaches to business opportunities, problems and issues and be aware of the ethical dilemmas and responsibilities faced by organisations and individuals. There is a quantitative element to the course too and students will apply numerical skills in a range of business contexts.
KS5 Intent Statement
To
provide a successful curriculum suited to our student intake profile, balancing
core learning with guided, differentiated pathways for sub-groups or
individuals which inspire and engage students whilst successfully preparing
them for progression at age 18 and future life as learners, employers and
citizens.
To give the students a real world understanding
of the use of technology in the wider world and to provide a theoretical level
of knowledge in the history and inner workings of key aspects of the computer.
To cultivate creative and dynamic problem solvers, both when using technology
and in general, by developing the key skills of computational thinking.
To
give students a deep understanding and engage learners to enhance their
awareness of current affairs and key Economic and Business topics to enrich and
develop their cultural capital and prepare them for a rapidly changing external
environment. To equip students with the analytical and evaluative skills
required to form judgments and opinions about why key decisions are taken by
the government and the impact on the world around us. We want learners to
demonstrate that they can identify and use effectively, in an integrated way,
an appropriate selection of skills, techniques, concepts, theories and
knowledge to help them prepare for progression to employment, apprentices and
further education.
Qualification Details
Exam Board: Edexcel Pearson
Qualification Title: Business Studies
Qualification Specification Code:
Qualification Webpage: Click here to visit the Edexcel Pearson webpage for the specification.
Entry Requirements
Standard Sixth Form entry requirements
What will I study in this qualification?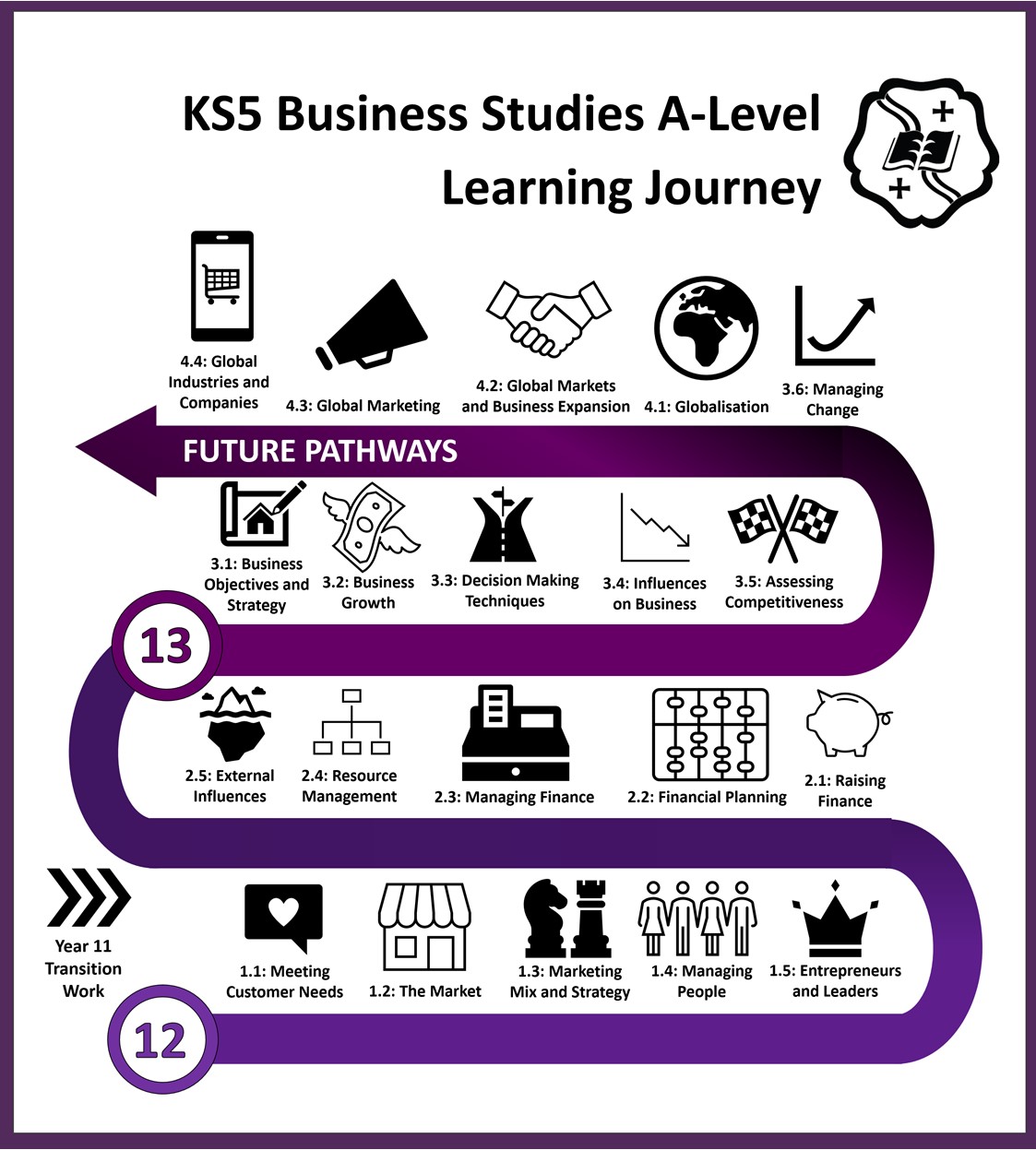 Possible Career Paths
Studying Business A Level can lead you onto a number of business related degrees in areas such as Economics, Business Law, Marketing, Accounting and Finance, HR, Business Management, Business Analytics, Business Administration, Enterprise and Entrepreneurship, Information Technology, Hospitality and Travel and Tourism. Studying Business at A Level can gain you specific skills such as analytical ability, communication skills, teamwork, understanding figures, problem solving, organisation, ability to think logically, presentation skills, report writing skills and literacy. One of your options is to join a scheme with one of the big graduate recruiters; these will often provide professional training as well as experience and a decent salary. You could also consider employment or apprenticeships in the following areas; Consulting, Teaching, Advertising, Investment Banking, Retail Banking, Retail Buying, Marketing and Digital Marketing, HR, Consumer Products, Retail Management, Sales, Logistics.