Overview
The course aims to ensure that all pupils understand and respond to spoken and written language from a variety of sources. It will enable students to speak with increasing confidence, fluency and spontaneity, finding ways of communicating what they want to say. Student will also be capable of writing at varying length, for different purposes using the variety of grammatical structures that they have learnt.
KS4 Intent Statement
MFL serves a cultural and linguistic purpose in that it exposes students to foreign language and culture, therefore promoting global citizenship and curiosity to travel.
The curriculum builds on prior learning at KS3 by revisiting many of the same topics in order to deepen knowledge and increase linguistic and grammatical sophistication.
The GCSE curriculum allows students to deepen their knowledge about how language works and enrich their vocabulary in order for them to increase their independent use and understanding of extended language in a wide range of contexts.
The curriculum sequences knowledge and skills, builds on prior learning and enables students to widen their understanding, knowledge and use of a variety of language competencies. It is also serves to enrich students' use of their mother tongue through comparison of the language and culture of another country. The organisation of the topics studied at key stage 4 promotes critical thinking on a wide range of issues which go beyond their own cultural experience and sets them up as intercultural citizens.
Differentiation, particularly for SEND, should enable all learners to reach their full potential.
The curriculum is challenging for the most able as they are expected to be able to manipulate language both for purpose and audience.
Careers: the aim is to develop language-learning skills both for immediate use and to prepare them for further language study and use in school, higher education or employment.
Qualification Details
Exam Board: Edexcel
Qualification Title: Spanish
Qualification Specification Code: Pearson Edexcel Level 1 / Level 2 GCSE (9 – 1) in Spanish (1SP0)
Qualification Webpage: Click here to visit the Edexcel webpage for the specification.
Why should I study this course?
Learning a foreign language is a liberation from insularity and provides an opening to other cultures. A high-quality languages education should foster pupils 'curiosity and deepen their understanding of the world. It will also provide opportunities for the students to communicate for practical purpose and equip them to study and work in other countries.
What knowledge and/or skills will I need?
You will need to have studied this language at school before in order to continue it to GCSE.
What will I study in this qualification?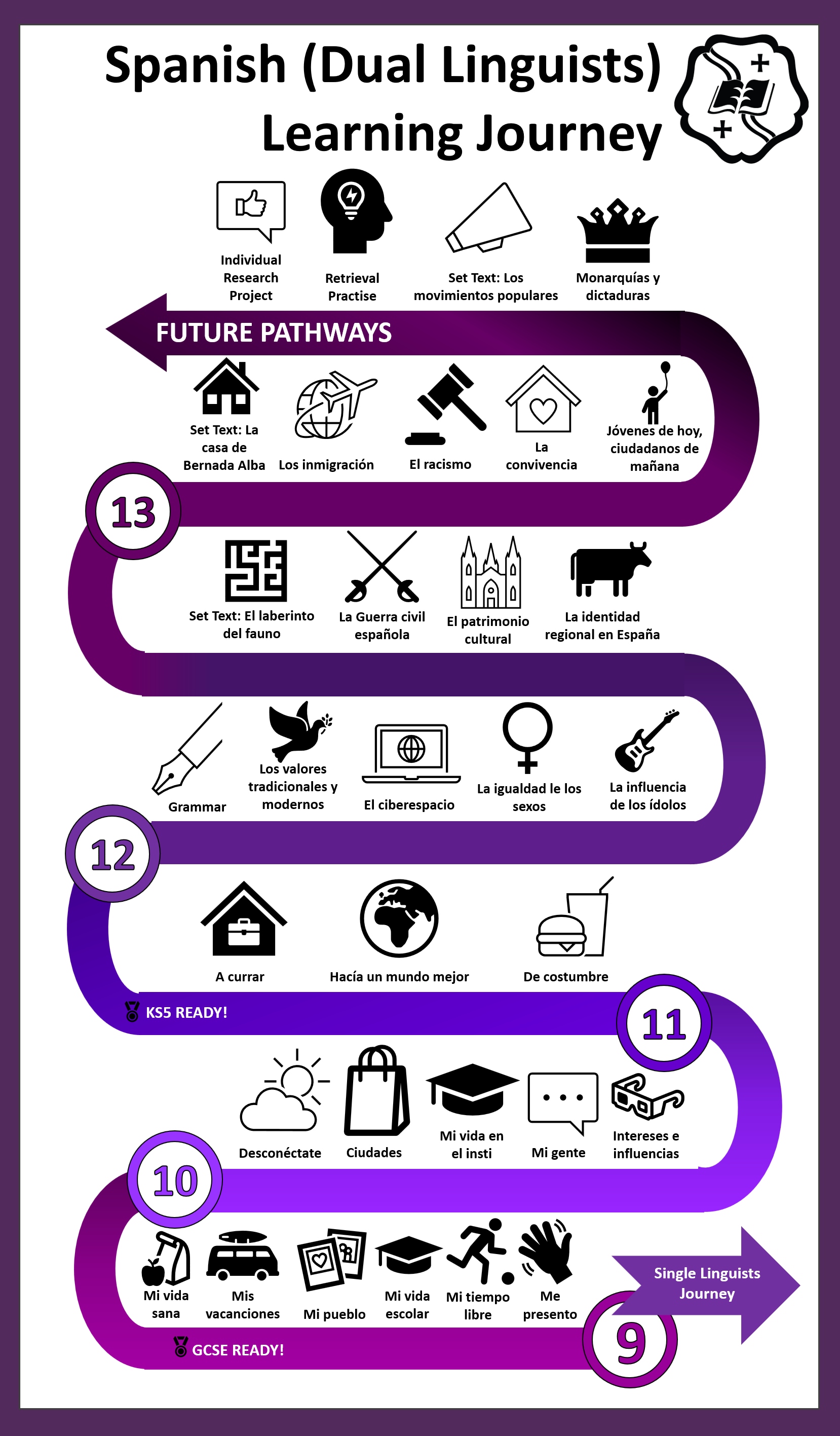 How will I be assessed?
The MFL GCSE consists of four externally examined papers based on the following skills: listening, speaking, reading and writing.

Paper 1: Listening and understanding in Spanish (Foundation tier or Higher tier).
Paper 2: Speaking in Spanish (Foundation tier or Higher tier).
Paper 3: Reading and understanding in Spanish (Foundation tier or Higher tier).
Paper 4: Writing in Spanish (Foundation tier or Higher tier).

Possible Career Paths
• Translator
• Interpreter
• Secondary school teacher
• Broadcast journalist
• Diplomatic service officer
• English as a foreign language teacher
• International aid/development worke
r • Logistics and distribution manager
• Marketing executive
• Private tutor
• Sales executive