Overview
GCSE Physical Education equips students with the knowledge, understanding and skills to develop their own performance in sport. They develop their understanding of socio-cultural influences on participation in sport, and the benefits of physical activity to health, fitness and well-being.
KS4 Intent Statement
Our KS4 core PE curriculum is inclusive, broad and balanced and continues to promote equality and diversity. It further develops their skills and understanding through purposeful competitive experiences alongside understanding the value of why regular participation in physical activity improves fitness, health, and wellbeing.
Our KS4 curriculum provides opportunities for students to be physically confident and develop their leadership skills through pathways that further character values such as resilience, respect, responsibility and fairness as well as developing the skills relevant to many careers.
Our KS4 schemes of work offer rich and varied progressive learning experiences in participation and competition. Success is celebrated, but students also learn how to cope with failure.
Our KS4 examination curriculum promotes the academic aspects of the subject through enhanced learning opportunities in GCSE PE and Sport Science allowing students to follow academic and vocational studies. Literacy is promoted through extended writing and extended oral work, combined with the use of key subject scientific, psychological and socio-cultural terminology. Progress made is regularly identified in learning through tracking and celebrated by sharing best work and by rewarding it through the rewards policy.
Our KS4 curriculum is enriched by a wide range of extracurricular opportunities for participation and competition and further develops and promotes character values, healthy lifestyles and opportunities for leadership.
Our students are encouraged to take part in competitive sports clubs and participative activities outside of school through club links and community incentives.
Qualification Details
Exam Board: OCR
Qualification Title: Physical Education
Qualification Specification Code: J587
Qualification Webpage: Click here to visit the OCR webpage for the specification.
Why should I study this course?
GCSE PE is an interesting and challenging learning experience. In it students are introduced to key sporting ideas and shown how these interact with practical performance. They will also gain insights into the relationships they have with each other throughout the course.

Students experience the development of transferable skills including: decision making, psychological understanding of people, independent thinking, problem solving and analytical skills as well as thinking, acting and reacting under pressure.

The study of GCSE PE opens up a range of possibilities for further study and also into careers associated with the subject.
What knowledge and/or skills will I need?
An interested in sport and physical activity is desirable. Some understanding of how the body works is desirable. Some knowledge of sport in society is desirable. A good level of performance in 3 sports (2 team and 1 individual or 1 team and 2 individual) is essential.

A commitment to continued participation in sports in extra-curricular activities and outside clubs.
What will I study in this qualification?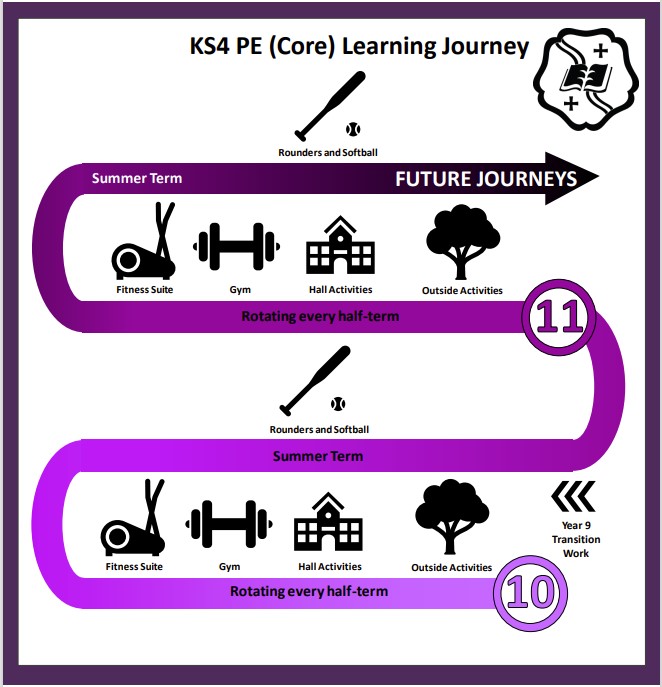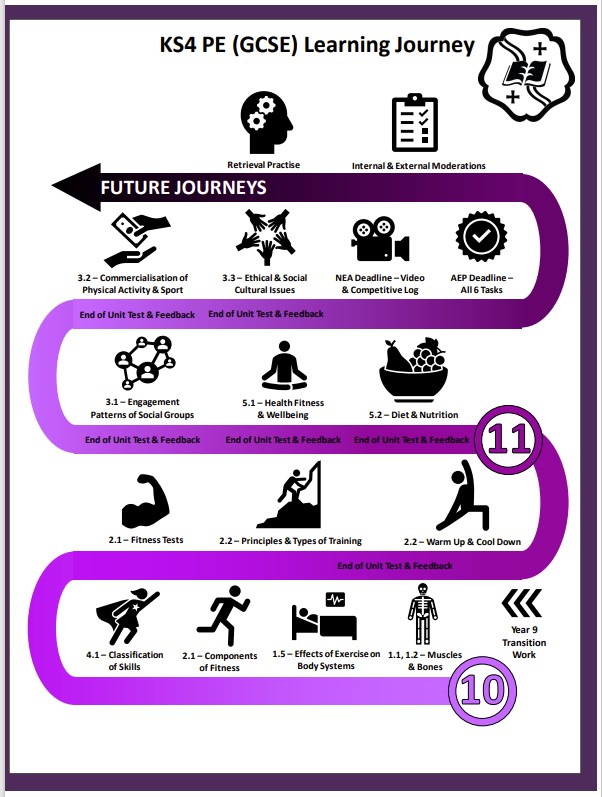 How will I be assessed?
Component 01 (30% weighting) – 1 hour external examination
Component 02 (30% weighting) – 1 hour external examination
Component 03 (40% weighting) – Practical assessment of 3 sports. (2 team and 1 individual sports or 1 team and 2 individual sports)
Possible Career Paths
Sports Science
Sport Psychology
Sports Management
Sport Coaching
Healthcare
Exercise and Health (eg personal trainer)
Teacher training
Sports Therapy (eg physiotherapy, Occupational health)
Armed forces
Nutrition