Overview
GCSE (9 – 1) Mathematics is a challenging course which develops upon the progressions students have made throughout Key Stage 3. As with Key Stage 3 students will study topics in Number, Algebra, Ratio, Proportion and Rates of Change, Geometry and Measures, Probability and Statistics. Our GCSE course will focus on develop students problem solving and mathematical reasoning skills. Students will be set by prior attainment and progress will be closely monitored during the two year GCSE course to ensure students are placed in the right set to suit their needs. There are two tiers of entry at GCSE (9 – 1) Mathematics, Higher tier which covers grades 9 – 4 and Foundation tier which covers grades 5 – 1. The decision on which tier of entry will be based on students prior attainment and will be chosen to ensure the best possible outcome for each individual student.
KS4 Intent Statement
Build upon the fundamentals of mathematics developed over the course of Key Stage 3 to enable students to reason mathematically and be able to solve problems in an effective systematic way. The KS4 curriculum is designed to ensure the content delivered to students is suitable for their needs. The curriculum will be fluid in order to match the needs of each teaching group and focussed upon students targeted attainment outcome.
Key threads will run through the two years with regular recall and practice alongside delivery of new content. Explicit links will be made to the Assessment objectives and connections will be made from the work carried out in lessons to what it looks like in an exam.
Algebraic manipulation, numerical fluency and multiplicative reasoning will remain a key focus, in lessons and beyond to deepen understanding. This will provide the best preparation for students who wish to study mathematics post 16. A commitment to the UKMT gives students the opportunity to enhance understanding of the breadth and depth of mathematics.
Qualification Details
Exam Board: Edexcel
Qualification Title: Mathematics
Qualification Specification Code: 1MA1
Qualification Webpage: Click here to visit the Edexcel webpage for the specification.
Why should I study this course?
Studying GCSE(9-1) Mathematics will enable you to:
• Develop fluent knowledge, skills and understanding of mathematical methods and concepts.
• Acquire, select and apply mathematical techniques to solve problems
• Reason mathematically, make deductions and inferences and draw conclusions
• Comprehend, interpret and communicate mathematical information in a variety of forms appropriate to the information and context.

What knowledge and/or skills will I need?
Skills you will need or required to develop include:
• Resilience, be willing to give everything a go, not be scared to get things wrong and to be stuck, it means you are learning.
• Be willing to practice what you have learnt, you need to spend time practicing skills to be able to apply them to challenging problems.
• Be able to break problems down into smaller pieces to enable you to apply things you already know to unfamiliar contexts.
• Be able to spot patterns and then use what you have learnt to generalise a situation and apply it to solve a problem.

What will I study in this qualification?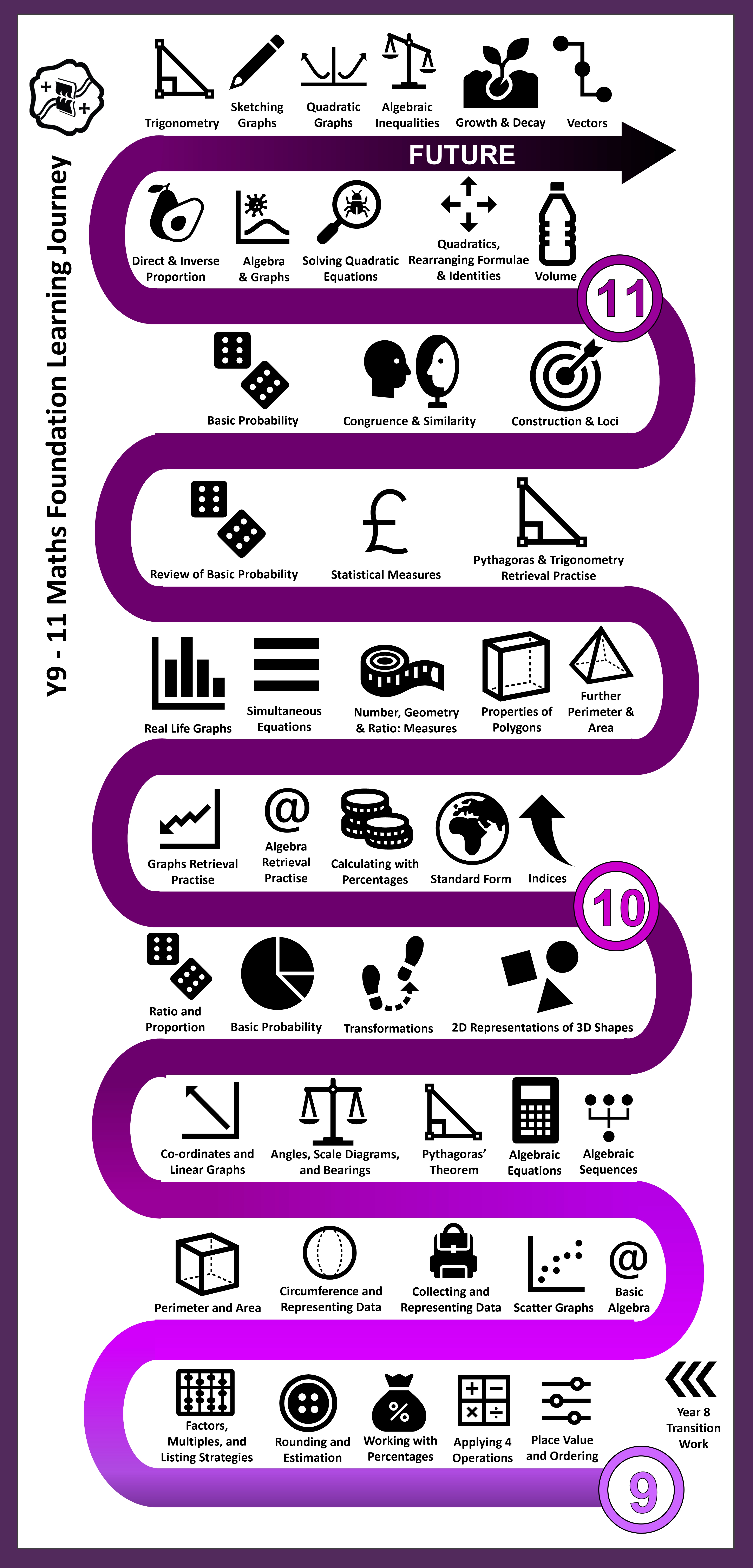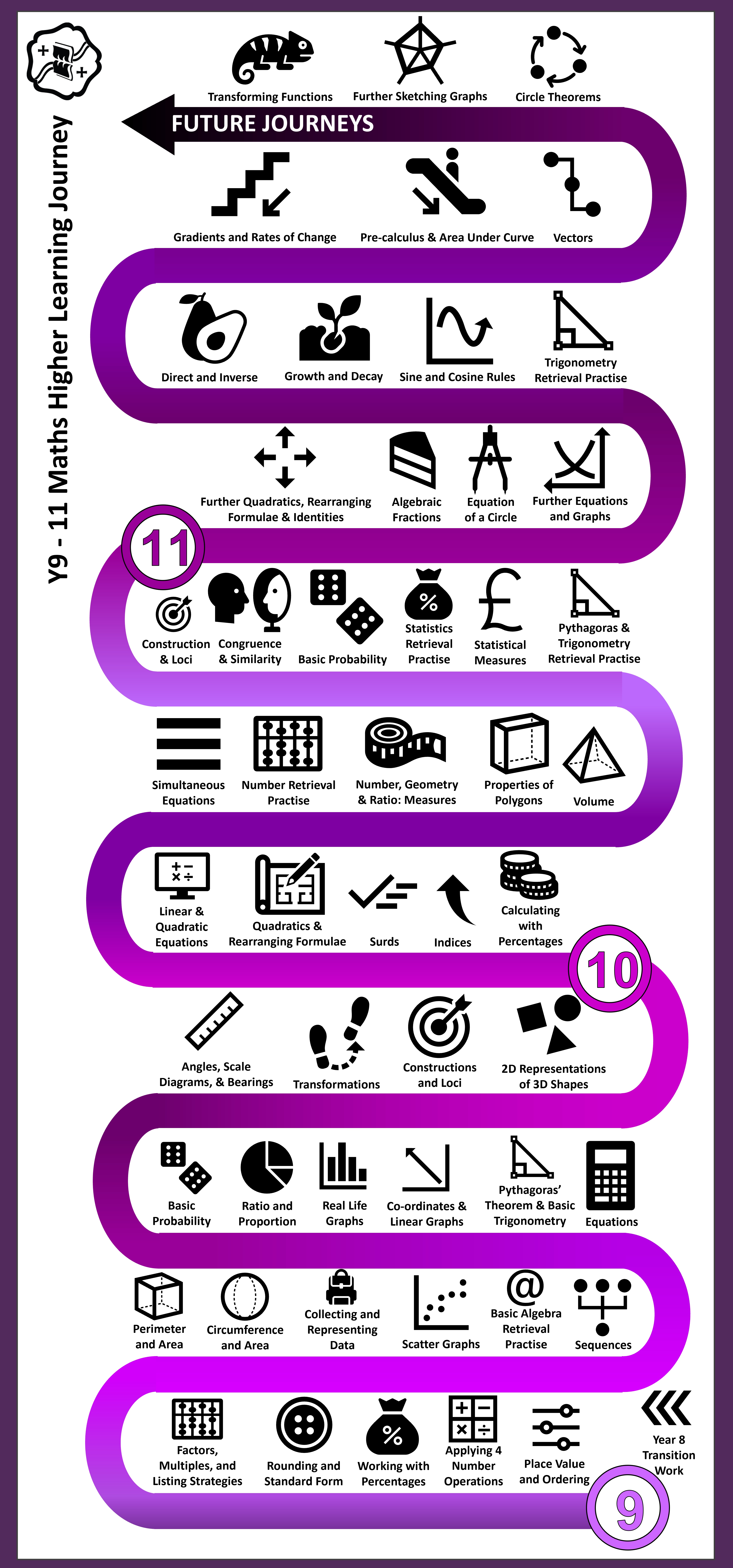 How will I be assessed?
GCSE (9-1) Mathematics is assessed through three equally weighted written examinations at either Foundation or Higher tier sat at the end of Year 11.

Students must take all three papers at either Foundation or Higher tier.

Each paper is 1 hour 30 minutes long and is out of 80 marks.

Paper 1 is a Non-Calculator paper.
Paper 2 and 3 are Calculator papers.

Each paper will assess a range of different topics studied across the whole GCSE course that are unknown prior to the examination. Some topics will appear on both Non-Calculator and Calculator papers and could be assessed in more than one of the three papers.

Foundation Tier covers grades 1 – 5.
Higher Tier covers grades 4 – 9.

The final grade will be awarded on the nine-grade scale from 9 to 1 using the total mark achieved across all three papers. Individual papers are not graded.

Possible Career Paths
Mathematics offers a huge variety of career opportunities, some examples of possible career paths include:
Accountancy and Professional Service
Actuarial Profession
Banking – Investment/Retail
Computing and IT
Engineering
General Management
Operational Research
Statistical Research
Teaching
Economics
Architect
Meteorologist