Overview
Geography is the study of the Earth's landscapes, people, places and environment – it's about the world we live in. An understanding and enthusiasm for Geography, and the development of geographical knowledge, is essential for the 21st century in a world where population growth, rapid development, global environmental change, social and economic inequality, and resource depletion threaten the very planet on which we live. These problems place increasing burdens on cultural tolerance, the sustainable management of societies, natural resources including bio-diversity, and landscapes. Geographers have a key role to play in understanding and helping to solve these issues.

"Geography is a subject which holds the key to our future" Michael Palin
KS4 Intent Statement
The Geography Department at Highcliffe School follows the AQA exam specification.
The aims and learning outcomes of the course are to allow students to develop and extend their knowledge of locations, places, environments and processes, at a range of different scales. To explain the social, economic and environmental impact of this.
To explain and evaluate the inter-relationships between human action and physical processes across a range of topics and scales.
Develop and apply key Geographical skills such as:
• Interpreting and constructing cartographic, graphical and statistical evidence including GIS and recognising spatial distribution patterns.
• Calculating key statistical data manipulation.
Apply fieldwork techniques to a range of human and physical enquiry questions with the aim of challenging or accepting key geographical theory.
Qualification Details
Exam Board: AQA
Qualification Title: Geography
Qualification Specification Code: 8035
Qualification Webpage: Click here to visit the AQA webpage for the specification.
Why should I study this course?
Geography is one of the subjects with the highest rates of graduate employability. It is highly valued by employers for its combination of knowledge, integration, and competence at training in the key skills.

"Great things are done when men and mountains meet" William Blake (1757 – 1827)
What knowledge and/or skills will I need?
You will need to have a general interest in current affairs, as all of the content links to news events or general events occurring around the world on a daily basis. Students will also need good maths skills, as part of the course involves using basic data manipulation.

Course combines well with: Biology, Business Studies, Economics, Mathematics, Geology, Leisure and Recreation, Environmental Science, Computing/IT.
What will I study in this qualification?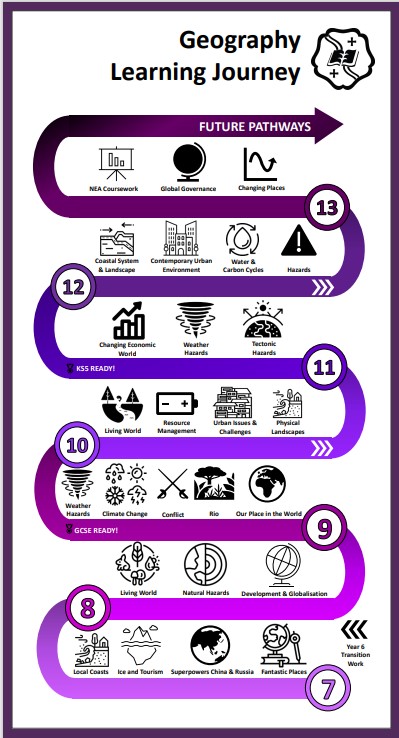 How will I be assessed?
Written exam: 1 hour 15 minutes
• 76 marks (including 6 marks for SPaG)
• 30% of GCSE
• Pre-release resources booklet made available 12 weeks before Paper 3 exam.
Possible Career Paths
Surveying, Planning, Housing and Property Management, Geographical Information Systems, Teaching, Water Companies, Cartography, Tourism, Military, Law, Journalism, Civil Service, Environmental Management and Consultancy, Resource Management, Accountancy.