Overview
The English Language course we study has been designed to inspire and motivate students, providing appropriate stretch and challenge whilst ensuring, as far as possible, that the assessment and texts are accessible to the full range of students.

The specification enables students of all abilities to develop the skills they need to read, understand and analyse a wide range of different texts covering the 19th, 20th and 21st century time periods as well as developing their ability to write clearly, coherently and accurately using a range of vocabulary and sentence structures.
KS4 Intent Statement
Provide students with the opportunity to explore a more challenging and focused range of texts and skills to help with further study in English and the wider curriculum. Enable students to become critical consumers of texts, confident communicators, self-reliant independent learners, and socially aware, responsible adults. Prepare students effectively for GCSE examinations through building on prior learning to revisit and improve skills. Promote retrieval of previous knowledge, drawing upon the development of all three literacy strands. Explicitly promote stretch and challenge through the years, underpinning with regular assessment and targeted feedback, as aligned with key learning objectives. Cultivate student confidence and resilience in the subject. Provide opportunities for extracurricular learning with a focus on developing a passion for English, as well as personalised advice and guidance. Extracurricular opportunities enhance the learning experience with a focus on supporting and extending knowledge and skills, as well as personalised advice and guidance. 
Qualification Details
Exam Board: AQA
Qualification Title: English Language
Qualification Specification Code: 8700
Qualification Webpage: Click here to visit the AQA webpage for the specification.
Why should I study this course?
English Language is a mandatory course to study at GCSE because it is crucial for every other subject that you study, and for your career path.
Students will need Grade 4 or above in English Language to continue in further education.
What knowledge and/or skills will I need?
AO1: Identify and interpret explicit and implicit information and ideas.
Select and synthesise evidence from different texts.

AO2: Explain, comment on and analyse how writers use language and structure to achieve effects and influence readers, using relevant subject terminology to support their views.

AO3: Compare writers' ideas and perspectives, as well as how these are conveyed, across two or more texts.

AO4: Evaluate texts critically and support this with appropriate textual references.

AO5:Communicate clearly, effectively and imaginatively, selecting and adapting tone, style and register for different forms, purposes and audiences. Organise information and ideas, using structural and grammatical features to support coherence and cohesion of texts.

AO6: Candidates must use a range of vocabulary and sentence structures for clarity, purpose and effect, with accurate spelling and punctuation.

What will I study in this qualification?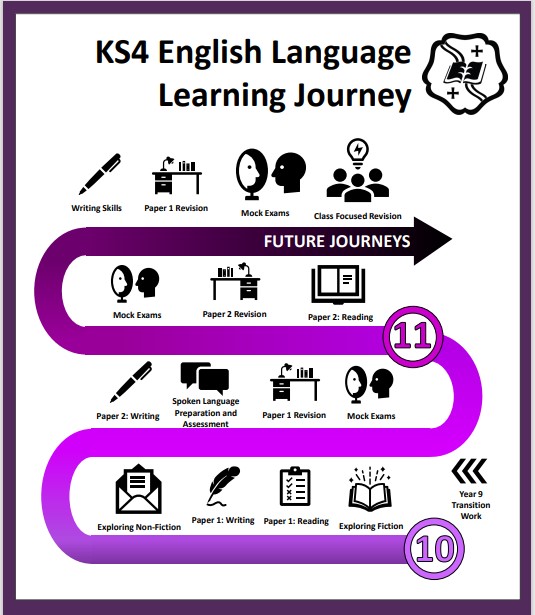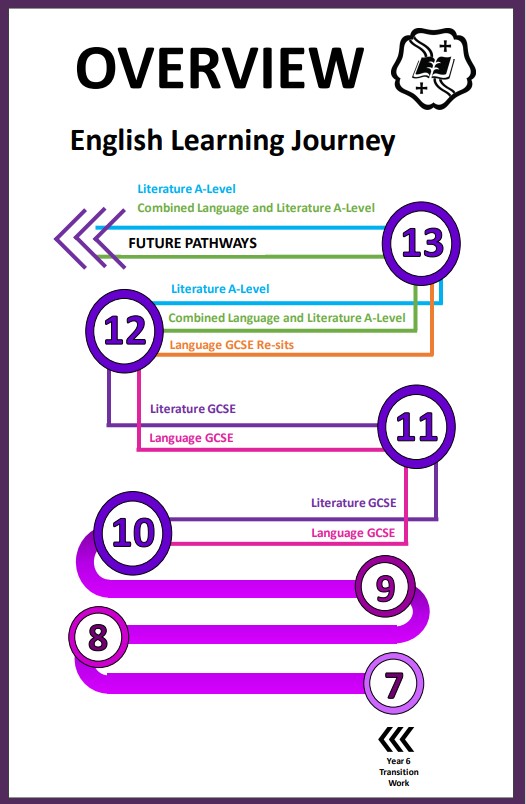 How will I be assessed?
Paper 1 (50%): Explorations in creative reading and writing
1hr45
80 marks in total.

The aim of this paper is to engage students in a creative text and inspire them to write creatively themselves by:
• in section A, reading a literature fiction text in order to consider how established writers use narrative and descriptive techniques to capture the interest of readers. This section is worth 40 marks.
• in section B, writing their own creative text, inspired by the topic that they have responded to in section A to demonstrate their narrative and descriptive skills in response to a written prompt, scenario or visual image. This section is worth 40 marks.

Paper 2 (50%): Writer's viewpoints and perspectives
1hr45
80 marks in total.

The aim of this paper is to develop students' insights into how writers have particular viewpoints and perspectives on issues or themes that are important to the way we think and live our lives. It will encourage students to demonstrate their skills by:
• in section A, reading two linked sources from different time periods and genres in order to consider how each presents a perspective or viewpoint to influence the reader. This section is worth 40 marks.
• in section B, producing a written text to a specified audience, purpose and form in which they give their own perspective on the theme that has been introduced to them in section A. This section is worth 40 marks.

NEA: Spoken Language Assessment
All students will give a short speech on a topic of their choice, which will be agreed with their class teacher. This will be performed in class and recorded to be sent to the exam board.

This is a marked component and students will receive a grade: fail, pass, merit, distinction, however this does not affect students overall English Language grade.
Possible Career Paths
Writer – Creative writer, travel writer, children's writer…
Journalist
Careers working within PR, marketing, advertising
Teacher – English Language specialist Linguistic specialist
Translator
Copy-writer
Editor
Solicitor/Lawyer
Graphic Designer
Politician
Brand Consultant
Motivational Speaker
Researcher
Librarian
Jobs within publishing