Overview
Period/geographical links: British early modern history
Thematic links: the nature of international rivalry
Thematic/period links: the role of the USA internationally in the twentieth century
KS4 Intent Statement
At Key Stage 4, students follow the Edexcel 9-1 History Curriculum which allows for a broad and diverse study. Students explore Medicine Through Time and the Western Front, Early Elizabethan England, The Cold War, and USA: Conflict at Home and Abroad. The enquires taught allow students to embed and recall key knowledge and skills that are required for students to successfully achieve. The units taught at Key Stage 4 enable students to explore complexities within social, political, and economic History.
Medicine Through Time provides students with an understanding of the invisible forces of History over a broad period where they are able to develop clear comparisons between time periods and identify where continuities and changes occur throughout the past. Early Elizabethan England offers students a focused, in-depth enquiry into a transformative era of British History, with clear conceptual links to both the Key Stage 3 and Key Stage 5 curriculum. The Cold War enables students to gain a well-rounded, secure understanding of the context of contemporary international relations and the consequences of political decisions. Finally, USA: Conflict at Home and Abroad provides students with an in-depth enquiry into the forces of social and political change, from individual and collective activism to high-level policymaking and international relations.
All units at Key Stage 4 challenge and inspire students to engage with competing narratives and analysis of evidence. Through a range of rigorous assessment points, students will develop the skills to study History with confidence and understand the significance of events from the past and explain how they have shaped Britain and the world. The History Department aims to inspire students further in their learning beyond the taught curriculum with a programme of outside of the classroom opportunities, guest speakers, and academic engagement.
Qualification Details
Exam Board: Edexcel
Qualification Title: History
Qualification Specification Code: H7
Qualification Webpage: Click here to visit the Edexcel webpage for the specification.
Why should I study this course?
History is a very valuable and well respected subject and involves:
Learning about people - how they interact, the motives and emotions that can tear people apart into rival factions or help them to work together for a common cause (useful knowledge for team-building at work!)
Learning about countries, societies and cultures - so many of today's conflicts and alliances have their roots in the past; how can you negotiate with, trade successfully with, or report on a country if you know nothing of its history?
Learning to locate and sift facts - to identify truth and recognise myth, propaganda and downright lies (useful in every aspect of life!)
Presenting what you've learned in a way that makes sense to others - whether in graphs, essays or illustrated reports - and having the confidence to defend your findings.
What knowledge and/or skills will I need?
Background knowledge for many of the topics is covered at KS3, an understanding of the importance of religion to British Society before 1700 is important. You need to be able to demonstrate your knowledge and understanding of the key features and characteristics of the periods studied. Explain and analyse historical events and periods and be able to analyse, evaluate and use sources to make substantiated judgements. And analyse, evaluate and make substantiated judgements about interpretations (including how and why interpretations may differ) in the context of historical events studied.
What will I study in this qualification?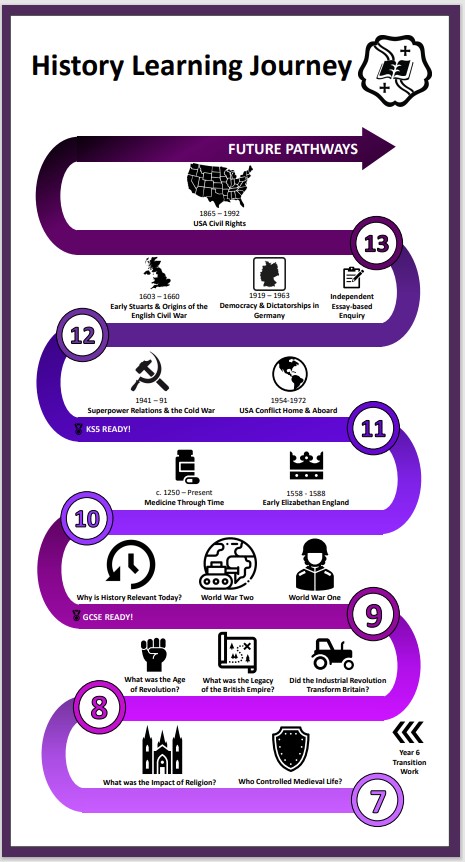 How will I be assessed?
Three written exam papers at the end of Year 11.
Paper One – Medicine through time 1 hour 15 mins (30%)
Paper Two – Superpower Relations and the Cold War AND Early Elizabethan England 1 hour 45 minutes (40%)
Paper Three - America: Conflict at Home and Abroad (Civil Rights and Vietnam) 1 hour 20 minutes (30%)
Possible Career Paths
Law, Museums and Galleries, Historic Houses, Heritage Sites and Organisations, Record Offices, Archives, Libraries and Universities, Archaeology and Architecture, Conservation and Horticulture, National and Local Government, the Civil Service and the Diplomatic Service, The Media, The Police and Armed Forces, Teaching in Schools,