Overview
The course provides an opportunity to study the disciplines of music in an integrated way as well as cultivating the highly desirable skills needed for Higher Education and future employment including self-management, creativity, data analysis, performance, teamwork, problem-solving and communication. Students will have a choice of specialising in either performance or composition whilst reinforcing their knowledge and understanding of music through three areas of study: The Western Classical Tradition; Twentieth Century Music; and one from either Rock and Pop, Musical Theatre, or Jazz.

To support their personal instrumental studies students will be given a rich variety of public performance opportunities: Christmas Concerts; Summer Concerts; School Production; Lunchtime Concerts; Evening Recitals; the Primary Schools' Music Tour – leading to showcase events such as Regent Centre Community Project and other local music events in the community. The course content is delivered through joint lessons involving students from both Music Performance pathways to maximise ensemble performance opportunities and to support collaborative learning. A-level students will also benefit from regular tutorials and additional Music Theory classes delivered through the Music Enrichment programme.
KS5 Intent Statement
Build on analytical listening skills established during Music lessons in previous Key Stages allowing students to appreciate the complexity of sound in its finest detail. Inspire creativity through the story of the development of Music Production and the innovations of individual Producers working within the limitations of technology of their time. Provide relevant practical scenarios to allow students to apply problem-solving skills and discover creative solutions in preparation for ongoing learning whether in higher education or the workplace of the future. Enable students to assimilate a broad repertoire of skills and production styles and instilling a confidence to be able to apply this knowledge to new and unfamiliar contexts. Develop students' critical thinking skills through an understanding of the processes and analysis of artistic choices made in commercial productions and the evaluation of the applications and limitations of production technologies across different eras and providing balanced arguments with a well-supported conclusion. Provide enhanced learning opportunities through the Music Enrichment programme, visiting practitioners, work experience opportunities and additional graded exam qualifications.
Qualification Details
Exam Board: EDUQAS
Qualification Title: Music Performance
Qualification Specification Code: A660QS
Qualification Webpage: Click here to visit the EDUQAS webpage for the specification.
Entry Requirements
Standard Sixth Form entry requirements and audition.
What will I study in this qualification?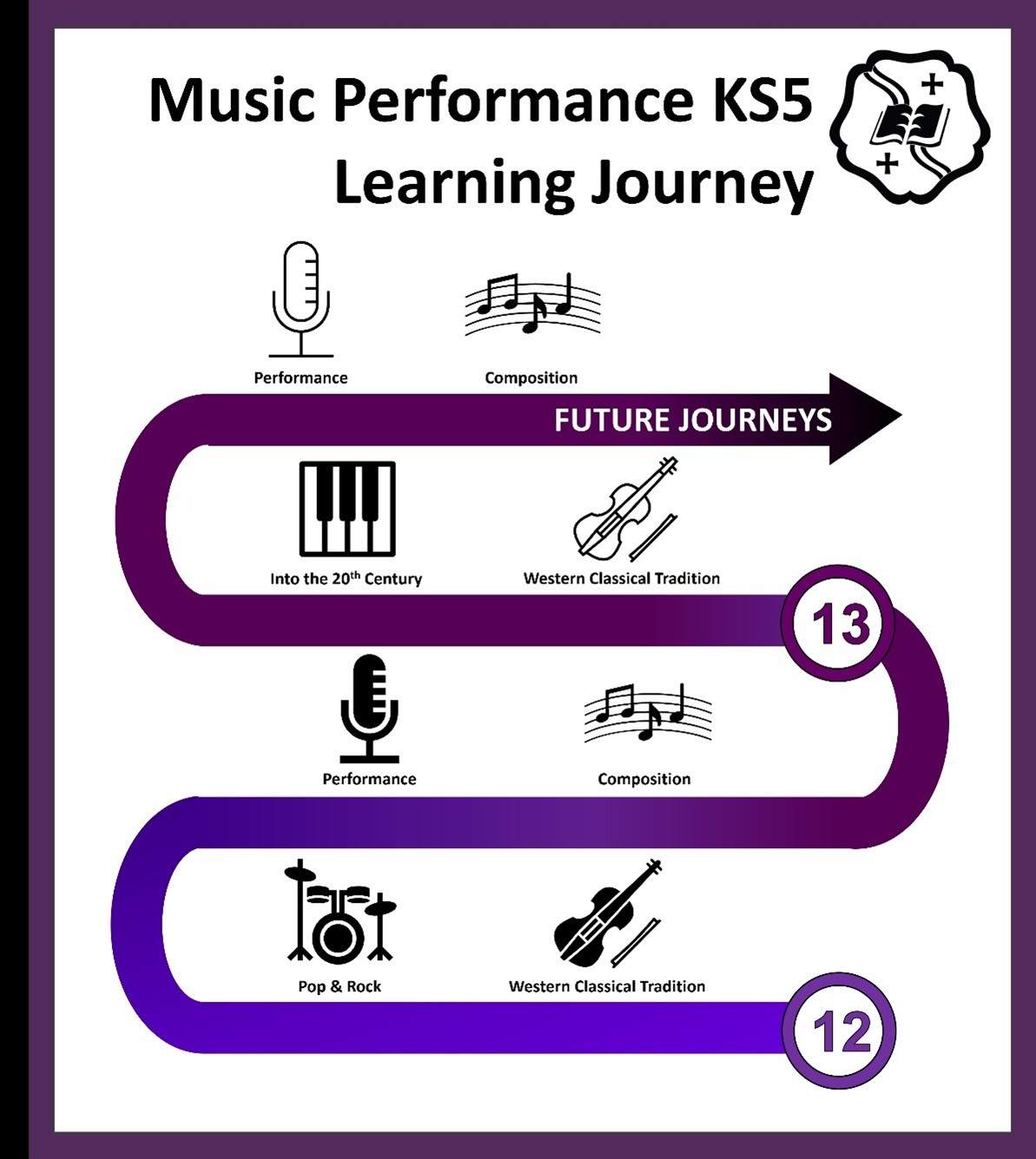 Possible Career Paths
The qualification prepares students who wish to undertake further study in performance at university or conservatoires throughout the UK and abroad. The study of music opens doors to a wide range of careers, both within and outside the arts as the commitment and discipline required supports students heading for destinations as diverse as Broadcasting, Publishing, Law, Politics and the Civil Service.