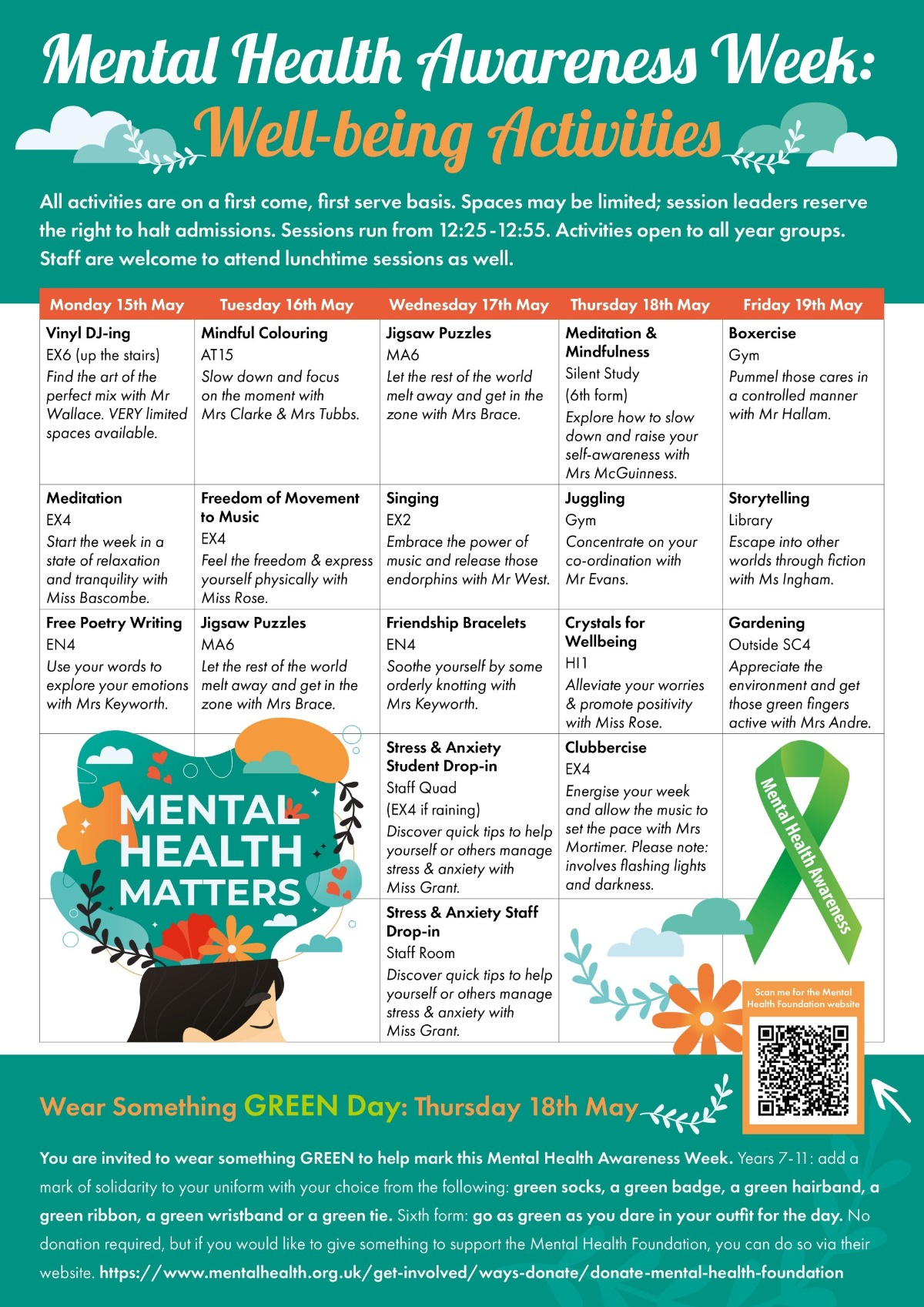 Tutor time activities focused on this year's theme: how we can manage and improve feelings of anxiety and prevent them from developing into a more serious mental health problem.
Wear Something Green Day on Thursday 18th May. Years 7-11: add a mark of solidarity to your uniform with your choice from the following: green socks, a green badge, a green hairband, a green ribbon, a green wristband or a green tie. Sixth form: go as green as you dare in your outfit for the day. No donation required, but if you would like to give something to support the Mental Health Foundation, you can do so via their website. https://www.mentalhealth.org.uk/get-involved/ways-donate/donate-mental-health-foundation
For more information about wellbeing at Highcliffe School, please visit https://www.highcliffe.school/wellbeing
Alexa Charnley, Director of Fundraising and Communications at the Mental Health Foundation, said:
"We all experience anxiety but sometimes it can get out of control and become a mental health problem. However, there are things we can do to manage feelings of anxiety and stop them becoming overwhelming. For example, breathing exercises, physical activity, speaking to a trusted friend, or keeping a diary. You can find more information and guidance on our website mentalhealth.org.uk.
"This Mental Health Awareness Week we're encouraging everyone to get involved by sharing their experiences of anxiety and the things that help with the hashtag #ToHelpMyAnxiety. We hope people all over the UK will take part and help us to normalise conversations about anxiety and mental health. We hope the week helps people to feel more confident in talking about anxiety and how it affects them. Most importantly, we hope people understand more about what they can do to manage anxiety and what other support is available."
About the Mental Health Foundation: www.mentalhealth.org.uk
The Mental Health Foundation is the home of Mental Health Awareness Week.
Our vision is of good mental health for all.
The Mental Health Foundation works to prevent mental health problems.
We drive change towards a mentally healthy society for all, and support communities, families and individuals to lead mentally healthy lives with a particular focus on those at greatest risk.
Mental Health Foundation is committed to promoting an anti-racist, inclusive community where we can all be ourselves.
The Mental Health Foundation relies on voluntary donations to provide evidenced based advice and carry out vital work to prevent poor mental health.