Chess Champion for Highcliffe Sixth
Bournemouth and District Chess League history is created by Highcliffe Sixth Former!
Fridolin Maier, a Highcliffe Sixth Former, has returned to Italy after a year spent at Highcliffe School.
During his time he played board one for the Highcliffe School Chess Club and he won all nine games he played in the Inter-School chess tournament helping us to reach the final for the first time in our history.
At school he frequently played several students and staff at once, usually winning all his games.
We wish him all the best back in Italy and we are all grateful for having had the opportunity to play against such a gifted chess player.
Peter Donaldson, a representative of the Bournemouth and District Chess League said "Fridolin Maier has represented Highcliffe School with distinction having played Chess on board 1 in the Inter Schools Cup winning all his games.

Apart from representing Highcliffe School, Fridolin has also played for Highcliffe Chess Club playing board 1 for their B team. He has helped the Club to secure third place in the Division scoring an unprecedented 9 points out of ten with eight wins and two draws.

His score is the highest in the Division and secured the Boardman Trophy for the best score made during the season. Fridolin is the youngest winner of the trophy and the points he has scored are the best that has ever been achieved in the League's history."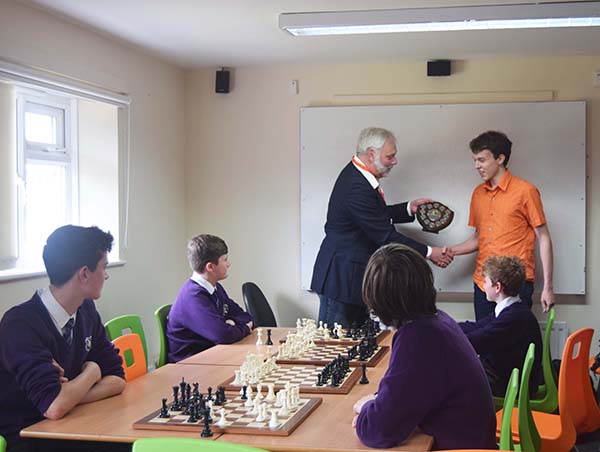 Fridolin receiving his award at the lunchtime chess-club.

---

Owned by: ldn | Last Published: 20/06/2017 08:54:05 | Next Update: n/a